Brickyard Swoncho Knitting Kit – Bluprint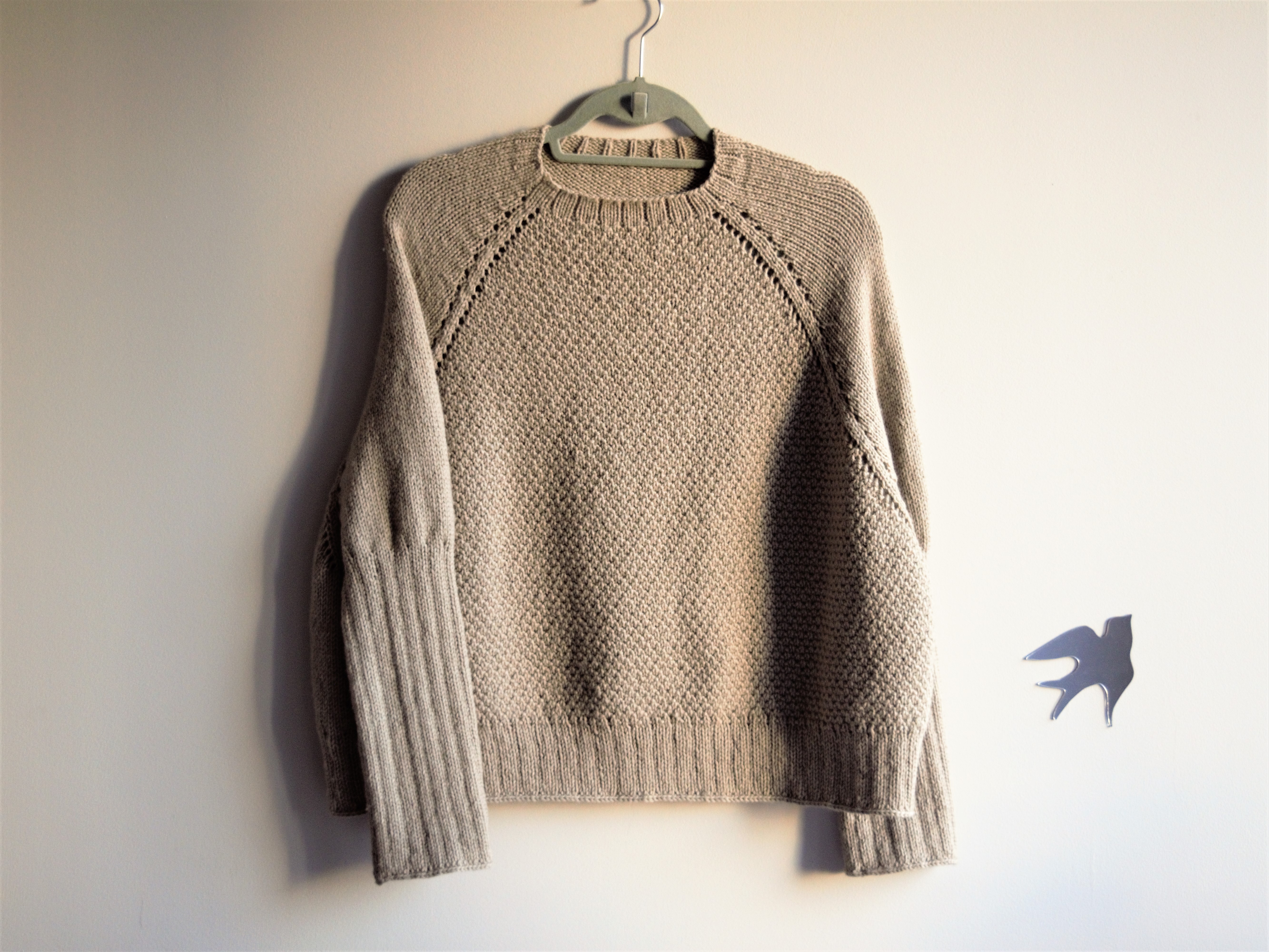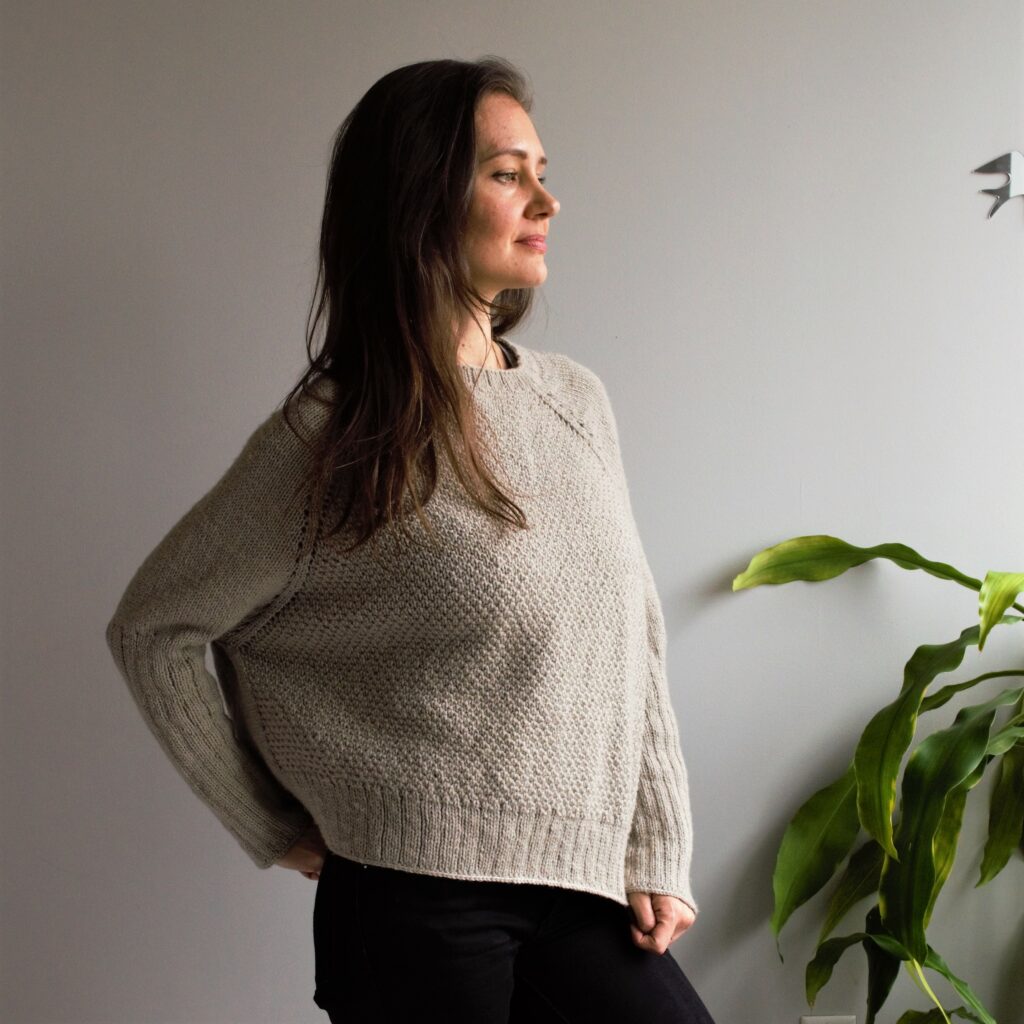 I first project of 2019! Brickyard Swoncho Sweater Poncho Knitting Kit sold by Bluprint.
This Swoncho is so cute! I am so happy it is Spring and I can finally wear
Last year I bought a membership for Craftsy Unlimited (now called Bluprint) in hopes I could learn how to improve my photographs. At first, I just watched all the tutorials on photography, and once I had watched them all, I started to search for something else to learn.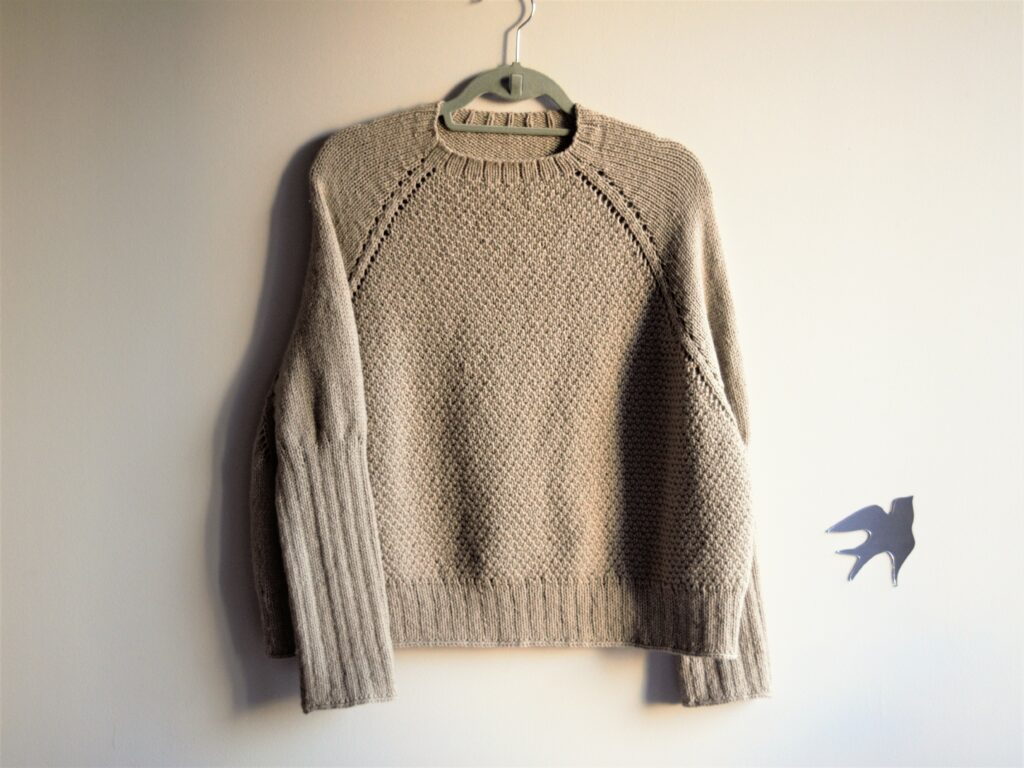 It was time to venture in the knitting world.

When I was a six-year-old girl, my grandma taught me how to knit. It was so much fun to see a long string of yarn be transformed into a scarf! And for a while all I made was scarves.
When I was about 10, I made my first sweater! It was a project made with bulky yarn, nothing fancy, but I was very proud. I was able to wear it only for a couple of winters, and as soon as it was too tight, I turn it into a scarf.

Swoncho by Erika Flory
A couple of years later I started to make more elaborate sweaters with beautiful stitch patterns. They were all very simple, no pattern required; only a square torso, and square sleeves. The scoop neck was the only part that required more work with the decreases.

By 15 I was selling scarves and sweaters for neighbors and family members.
Unfortunately, that was when I started to work part-time, and for many years I completely abandoned knitting.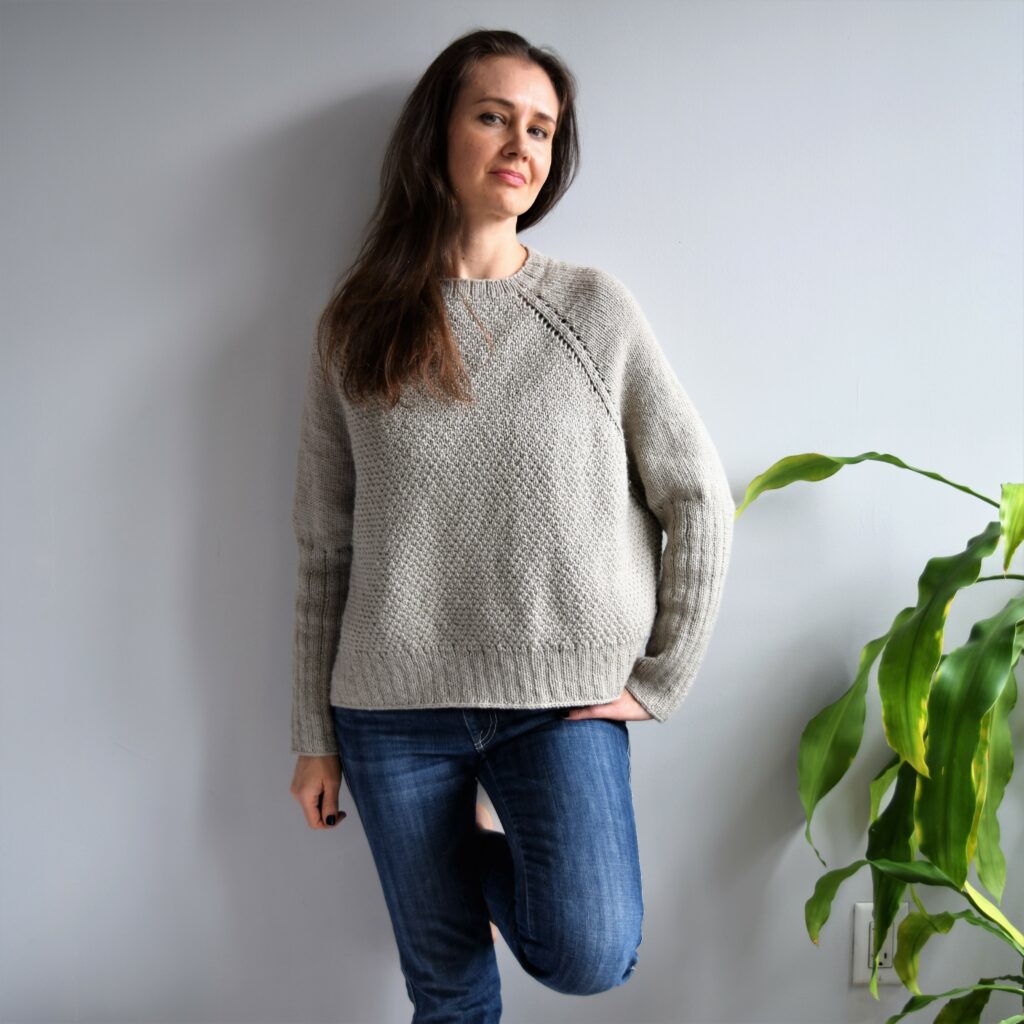 So, I always considered myself to be a beginner knitter. I knew a lot of different stitches, but when it comes to techniques I was hopeless.

Starting in the summer of 2018, Craftsy started the transition to Bluprint, and they gave me $100 in coupons! That was the perfect opportunity to reignite my long lost hobby, so I purchased three kits and some yarn.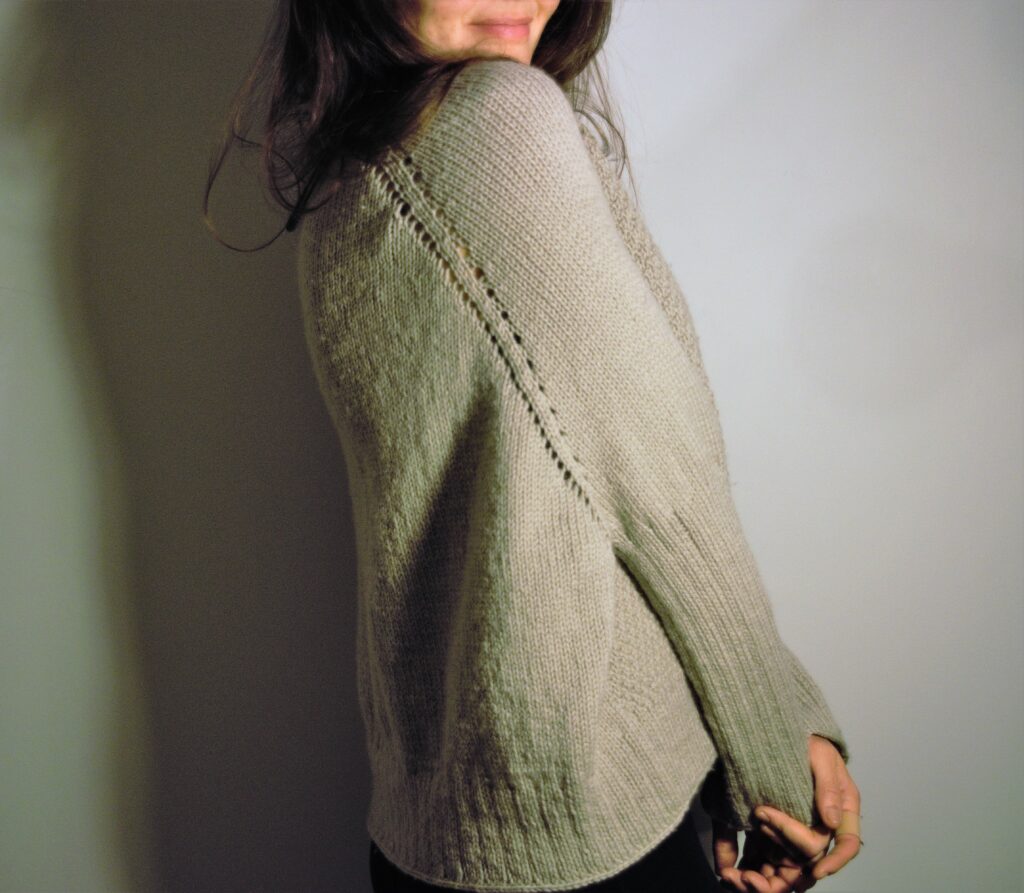 From all the patterns this handmade sweater caught my eye. A poncho -sweater! What a cool idea! I had never seen such unique knitwear. I love everything about this kit: the yarn is so soft and the color is gorgeous (I chose the color Greige) and the design is sophisticated and cool at the same time. Because the pattern was on sale and I had a coupon, I paid only $31.54 for this kit!
THE YARN

Cloudborn Superwash Highland Worsted Yarn
I wasn't sure about the yarn, but as it was a kit (and Superwash wool), I decided to go for it. I am not a big fan of wool (or any yarn made with animal fibers). My biggest concern was the yarn being too itchy.
It was the first time I bought this yarn. At first, I thought it would be itchy or rough, but it is quite the opposite! It is pretty soft and snuggly, and it didn't irritate my skin so much. Though I always wear a long sleeve t-shirt underneath it. There was no splitting, knots, or entanglement. It was so easy and pleasurable to work with it.
For the quality of this yarn, it is reasonably priced. Wool (and natural fiber yarns in general) can cost so much money!
Wool Care
This yarn is a Superwash Wool and can be machine washed. I just added to a batch of delicate garments I had to handwash. I used a gentle detergent and lay it flat on a towel to dry.
Product Specs
| | |
| --- | --- |
| COLLECTION | Cloudborn Superwash Highland Worsted |
| YARN WEIGHT | 4-Worsted |
| YARDAGE | 200 |
| WEIGHT | 100 |
| RECOMMENDED NEEDLE SIZE | US8 (5.0mm) |
| GAUGE | 15-17 stitches = 4 inches |
| FIBER CONTENT | 100% Fine Highland Superwash Wool |
| DYE LOT INFORMATION | Guaranteed to match within a single order for Cloudborn and Sprightly brands. |
| CARE INSTRUCTIONS | Machine washable. Lay flat to dry. |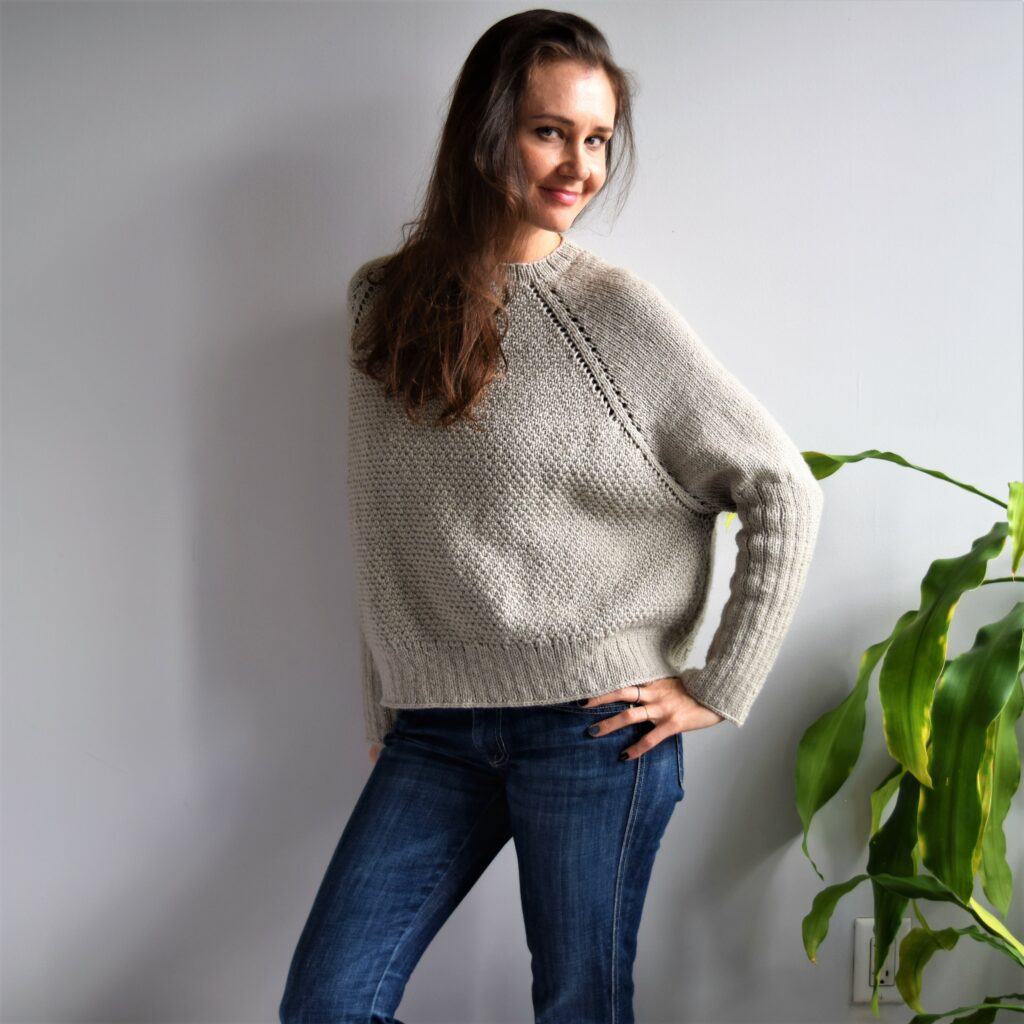 THE PATTERN
Brickyard Swoncho Sweater Poncho Knitting Kit – Bluprint

The pattern is lovely! It is precise and straightforward to follow, even for a beginner like me. Well, the truth is it took me a whole week to figure it out! I had to restart three times and was afraid the yarn would be worn out from all the undoing and re-knitting. It was very discouraging and I almost quit. I knew it would be hard for me to follow as English is not my first language, and I find all the abbreviations very confusing. Also, I have always followed graphic patterns. But I blame it on me, and now I understand that the instructions couldn't be clearer.

But once I looked at the pictures on the Bluprint site and zoomed in, I understood my mistakes, and from there I was hooked. After I got the pattern figured out, I was able to memorize it, which made the whole experience even more pleasant and faster. I could hardly wait to get it finished! And in a little over a week it was done, much quicker than expected.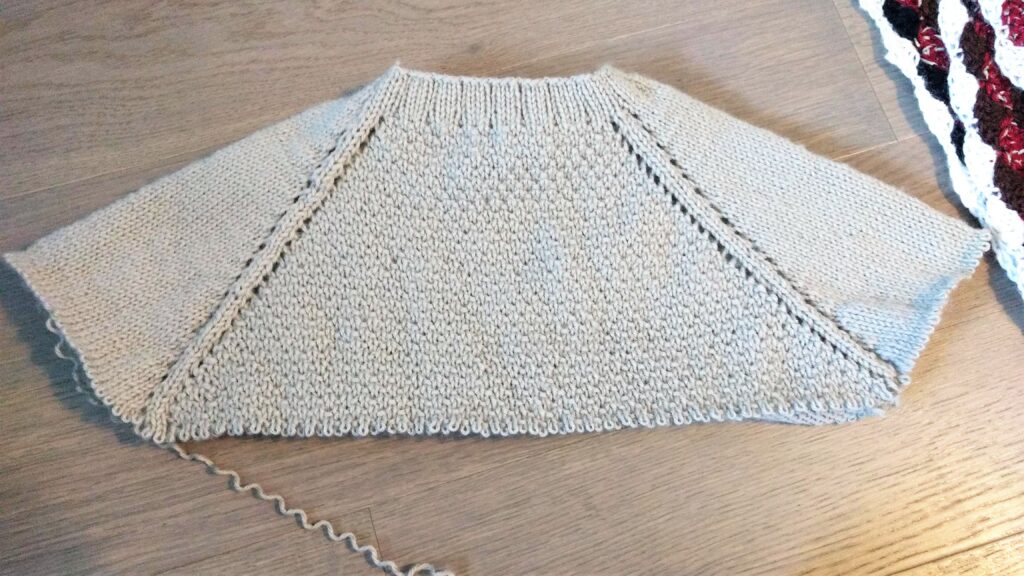 Be careful as you knit the raglan and sleeve increases! After knitting a whole week I noticed my mistake and had to redo it. It was my fault, as now I can understand the instructions perfectly.

Modifications
The sleeves were too loose to my taste. So I switched to a number 6 size needles. It was not a huge difference, but I like it better this way.
When I finished knitting, I thought it was a bit short. So I decided to add a few rows on the body and sleeves. The final product was perfect!
I will most definitely make another one in another one using acrylic yarn.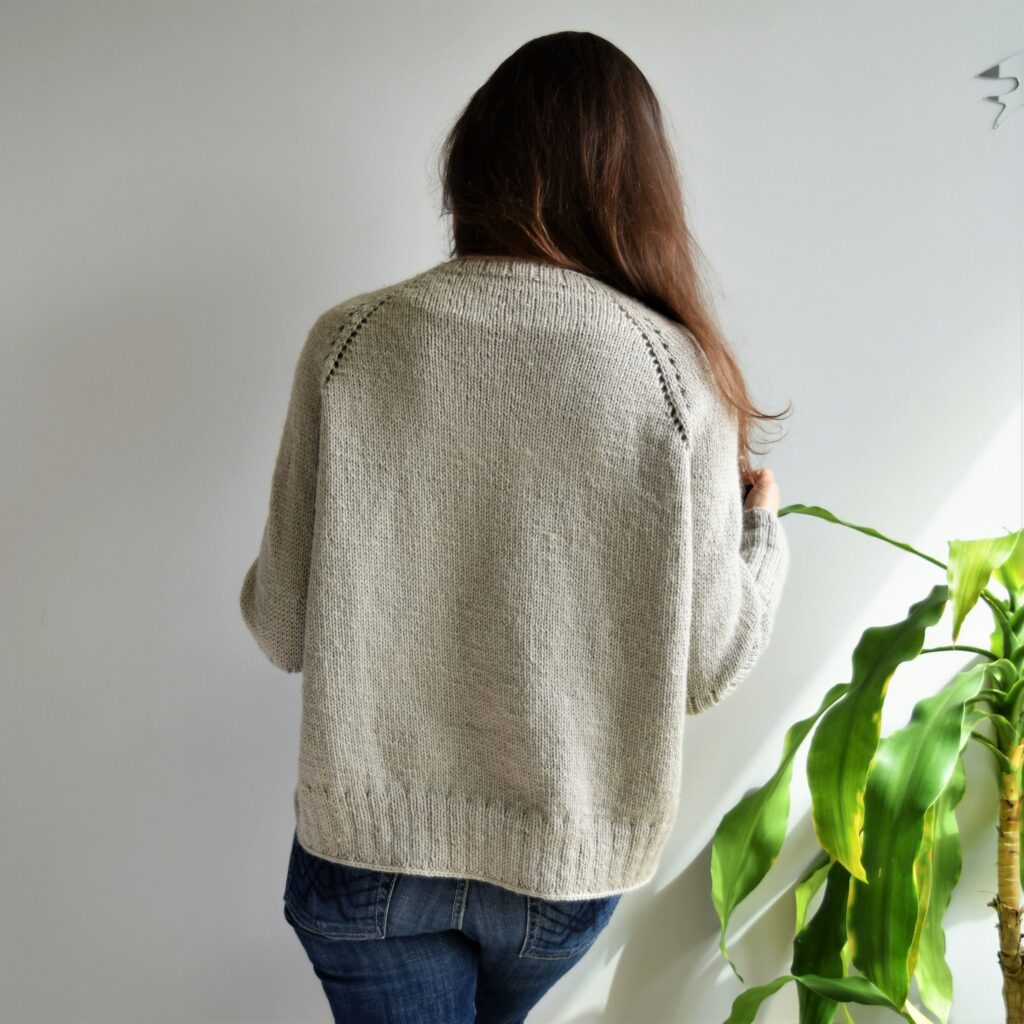 After all the mistakes and struggles of a beginner, I am super proud of my handmade sweater! I even opened an Etsy store and listed as a made-to-order product!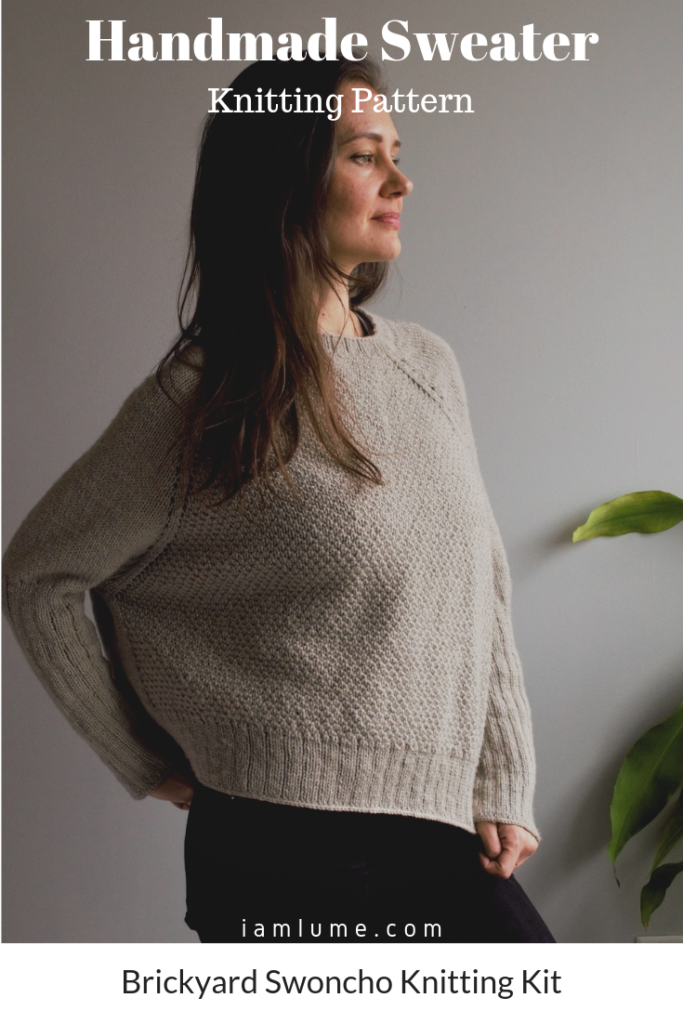 ---
---